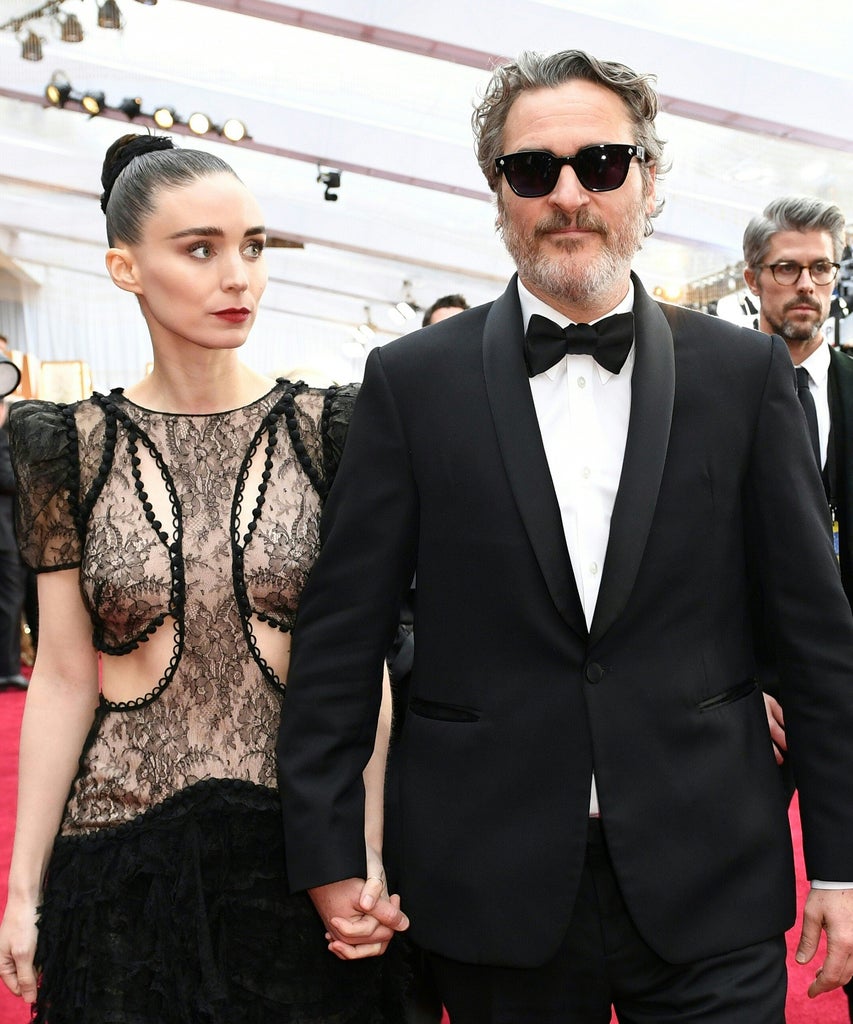 Nobody at the Dolby Theatre in Los Angeles was surprised by the twists and turns that Joaquin Phoenix's acceptance speech took at last night's 92nd Academy Awards. The first-time Best Actor winner, who took home the award for his leading role in Joker, remembered his brother, River, but not before sharing a few thoughts on… cows?
After the awards, he kicked back on a stoop with fiancée and fellow Academy-Award nominee, Rooney Mara (and Rooney's very relatable Converse-clad foot), to enjoy some juicy and beefy burgers. Except they were anything but beefy.
The photographer who captured the photo shared that these burgers were vegan creations from Monty's Good Burgers in Los Angeles. The restaurant serves 100% plant-based burger joint classics, often relying on innovations such as the Impossible Burger.
Yes, they're eating vegan burgers. And she's wearing Converse. Because they're celebrities and they're just like us, but also slightly better.
Phoenix has been a vegan almost his entire life and had campaigned to veganize awards season. This year's Oscars after-party also boasted an almost entirely-vegan menu, so perhaps he had something to do with that?
Phoenix has a reputation for thinking aloud about many of the moral quandaries that trouble us today.c. At the BAFTA's, he admitted he was "ashamed" to be a part of Hollywood's diversity problem. He has also been wearing the same tuxedo to all the awards shows that The Joker has taken him to this season. Basically, Joaquin Phoenix is that guy. The sometimes-sanctimonious but always well-meaning guy who nudges everyone to just do a little more – like doing the dirty work of telling a room full of celebrities to stop taking private jets. After all that, the man certainly deserves his vegan burger.
Related Content:
Like what you see? How about some more R29 goodness, right here?
Joaquin Phoenix Chokes Up Talking About Brother
Joaquin Phoenix & Rooney Mara Go Way Back
What The Stars Will Be Eating At The 2020 Oscars