When you're as dominant as UFC light heavyweight champion Jon Jones and flyweight champion Valentina Shevchenko are, your most dangerous competition isn't your next opponent; it's complacency. Brilliance is a blessing and curse, and genius can be its own special burden. Consider this: Life is boring. But when you start fighting, life is suddenly full of thrills. Then you become champion, and it's full of thrills and money. Then you become a dominant champion, and it's full of thrills and money and fame.
The world is yours, as Jones—who will face Dominick Reyes in UFC 247 on Saturday night in a fight you can stream on ESPN+—knows all too well. Every day, you're breathing rarefied air. Then one day you wake up and there's no one left to challenge you and you realize that the thrills you've relied on are gone because the danger is gone. You're back to square one.
This is always going to be a problem for athletes who fly high above their sports, and particularly so for athletes who fight. The very drive for risk and thrills and terror that propel people to fighting in the first place can turn from fuel to fire in a moment. The thirst for more action—that overwhelming impulse toward high experience—is unslakable. Just ask Jones. Clearly unmoved by adulation after 10 years of being called the greatest mixed martial artist in the world, he goes searching for new kinds of danger all over the place: By carelessly fighting to his opponents' strengths inside the cage, for example, and by doing illegal drugs out of it.
Shevchenko might not be at Jones' level of disenchantment yet (she's only been champion for two years, though her dominance over her division is already comparable to Jones'), but if things keep going as they are and no one comes along to give her a real challenge, she could easily find herself strolling down the primrose path that's nearly done in Jones. The best way to keep these great champions from courting danger outside the cage is to supply it to them inside of it.
Unfortunately, Saturday night's fights may not get the job done.
Here's everything you need to know to watch UFC 247 without cable.

UFC 247: Jon Jones vs. Dominick Reyes
When: Saturday, Feb. 8, at 10pm ET
Where: Toyota Center in Houston
Streaming: ESPN+
UFC 247 main event: Jon Jones vs. Dominick Reyes
So what do you do if you're Dominick Reyes (11-0) and you've run through your division and put together a spotless professional record as a fighter and your reward for all that effort and accomplishment is having to face Jon Jones (24-1)? How does one go about putting together a strategy to fight the greatest mixed martial artist who ever lived? Where does one look for inspiration or clues or hope?
Maybe the only place to start is Jones vs. Alexander Gustafsson in 2013, when the Swedish striker became the first, and really the only, man to give Jones serious, title-threatening trouble. Experts at the time credited Gustafsson's size. Gustafsson was the first opponent Jones had faced who was as tall as he was, and Reyes, who is also the same height as Jones, can take heart knowing Gustafsson gave Jones fits. That's where Reyes has to look for hope.
But there are caveats. Reyes and Gustafsson might be as tall as Jones, but both have much shorter reaches, which is the source of Jones' magic. With his bizarre 84 1/2-inch wingspan, the champion can keep his opponents far away and dictate where they can go and when. Jones can build a wall around himself where he can remain safe while hitting his opponents at will. Secondly, Gustafsson might have gotten close to beating Jones but he still lost. It may be a feather in a fighter's cap to say he dragged Jones to a close decision and even sent him to the hospital, but all that gets you is a feather to wear on your trip to the back of the contender's line. Lastly, and most importantly, the first Gustafsson fight took place six years ago. Since then Jones has only gotten better. When the two men met for a second time at the end of 2018, the result was as lopsided as any Jones fight, with the champion winning by TKO in the third round, long after it was clear Gustafsson had no way to win.
If that isn't disheartening for Reyes to think about, I don't know what is. Maybe Reyes' best hope doesn't lie in his own size but in Jones' complacency. All indications are that Jones is bored with being an unbeatable monster. Maybe to keep himself interested Saturday night, he'll fight left-handed or with his eyes closed. Then Reyes will have a chance. Then and only then.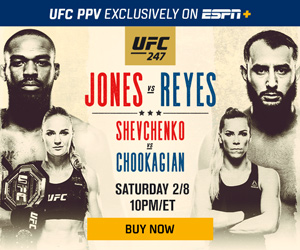 Valentina Shevchenko vs. Katlyn Chookagian
All the questions Dominick Reyes is asking himself as he prepares to fight Jon Jones, Katlyn Chookagian (13-2) must be asking herself as well—only more so. Where Reyes has a perfect 11-0 record and three knockout wins in the UFC to fall back on when doubts start to creep into his mind late at night, Chookagian will be walking into the cage against women's flyweight champion Valentina Shevchenko (18-3), mainly because the UFC was looking for a warm body and Chookagian's name was next on the list. Look at her UFC record and two important details stand out. The first is that every one of her six wins came by way of decision, which is telling. Chookagian is a good and spirited fighter but she's a point fighter by nature. She doesn't hurt her opponents, and she doesn't end fights. That means there's little risk for someone like Shevchenko—who does hurt her opponents, often badly, and who does finish fights, often dramatically. Shevchenko is so talented, so skilled, so technically sound, and so physically strong that only the risk of serious consequences can limit her options. No doubt Shevchenko looks at Chookagian and sees opportunity simply because she doesn't see repercussions. An unworried Shevchenko is a terrifying Shevchenko.
The second meaningful detail in Chookagian's UFC history is the women she lost to: Liz Carmouche and Jessica Eye. Chookagian didn't lose badly to either (both fights ended in split decisions) but she did lose. Meanwhile, when Shevchenko fought Carmouche in August, Carmouche found herself snuffed out. The fight went the distance but only because Carmouche stayed outside of range, afraid to engage, never troubling the champion with offense. When they did come together, the champion tossed her around and took her down and caught her with knees and kicks and outfought her in any way a fight could be fought.
And no one who saw it could ever forget Shevchenko's win over Eye last June, a head-kick knockout that gave even longtime, soul-hardened MMA fans pause. One kick like that erases a thousand and one light touches and well-placed point-fighting shots from a woman like Chookagian. MMA is a sport and enough points can add up, but MMA is also something primordial, something debilitating and awful, and just one punch or kick from Shevchenko has the potential to unmake any opponent, no matter how far ahead on the scorecards she might be.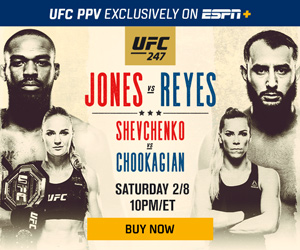 Juan Adams vs. Justin Tafa
Though they both tip the scales at 265 pounds, Justin Tafa (3-1) and Juan Adams (5-2) are proof of the thinness of the heavyweight division. It's all but impossible to imagine a fight between two lightweights or welterweights with such meager records on the main card of a UFC pay-per-view. But such are the realities of the fighting world. People love watching enormous men fight and there simply aren't that many enormous fighters in the world, so those who do exist have a low bar to clear.
The A-side on the third biggest fight on Saturday's card is Juan Adams—who is best known, if he's known at all, for refusing to let go of the leg of former NFL star Greg Hardy after failing on a takedown attempt in their fight last July and eating 31 unanswered strikes to the head as a result. Adams clung to that leg with the panic of a child afraid of losing his mother in a crowded store. It was no way to shine. Tafa, meanwhile, got called up to the UFC after only three professional fights and was knocked out in his promotional debut in October. This is not me finding fault with either man. The realities of human anatomical averages are what they are and the UFC heavyweight division is what it is, and how can anyone find fault with two guys grabbing their opportunities when they're presented to them, no matter how little they've earned them.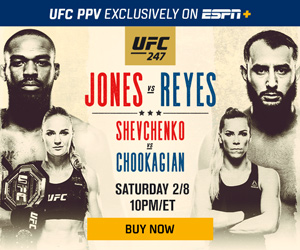 Mirsad Bektić vs. Dan Ige
When two fighters have similar records and similar knockout rates and similar skillsets, MMA pundits are often forced to speak in the most nebulous, almost metaphysical terms, to differentiate between them and give one an advantage. They start trafficking in what they call "intangibles." They start using words like "heart" and "hunger" and "desire" as if any fighter could make it to the UFC without those qualities. But tradition is tradition, and in that spirit, we're willing to indulge in a little "x factor" speculation to predict the winner between Mirsad Bektić (13-2) and Dan Ige (12-2), two great fighters struggling to make a name for themselves in the crowded UFC featherweight division.
Looking at these men and finding both of them blessed with tenacity, courage, and fighting spirit, we went to their out-of-cage lives for clues, and have decided, without evidence or rationale, that since Bektić spent the first year of his life in war-torn Bosnia and Ige splits his time between fighting and training to be a manager of fighters, Bektić is therefore the tougher man. He has combat in his soul, his life is indivisible from fighting, whereas fighting for Ige is one career option among many. The best fighters, they say, have nothing to lose and nowhere else to turn. Their desperation makes them great. This is nonsense, of course. Sonny Liston spent five years in prison for armed robbery and Muhammad Ali came up in a stable family, and we know what happened when they met. But nothing dies harder than a fighting cliché.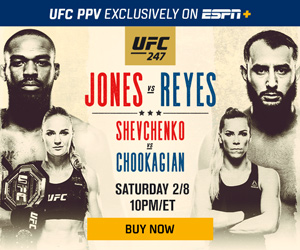 Derrick Lewis vs. Ilir Latifi
If you're a fight fan with the soul of a romantic and a love for the cinematic, then look no further than Saturday night's heavyweight fight between Derrick Lewis (22-7) and Ilir Latifi (14-7) to warm your heart. Lewis is a classic combat sports redemption story. Raised in poverty, prone to violence, arrested as a teenager and sent to prison while on a college sports scholarship, Lewis fell in love with MMA after getting released and worked his way up from poverty to the bright lights of the UFC, where's he's become a star. Latifi, meanwhile, is a classic Cinderella story. In 2013, he was fighting on the regional European circuit and helping his friend and training partner Alexander Gustafsson prepare for a headlining fight in their native Stockholm when Gustafsson got injured just one week before the big night. Desperate for a replacement, the UFC plucked Latifi out of obscurity and put him into the main event in his hometown. And the rest, as they say, is history. Latifi has since won seven of his 11 fights, becoming a hero to underdogs everywhere and a reason to believe for anyone blessed or cursed with an optimist's soul.
UFC 247 poster
How to watch UFC 247 on ESPN+
Devices:

Chromecast,

Amazon Fire Stick

and

Fire TV

, Apple TV, Android TV, Roku players and TV, Oculus Go, Xbox One, PlayStation 4, Samsung smart TVs, and iOS and Android devices
There's only one legal way you can watch UFC 247 from your home: by streaming it on ESPN+. While the prelims will be split between ESPN and UFC Fight Pass, the main event will exclusively be broadcast on ESPN's subscription streaming service. The good news is that it's incredibly simple to use and works with pretty much every streaming device you might have.
There are two purchase options for UFC 247: You can pay $59.99 for that one PPV or you can get a full year of ESPN+ along with UFC 247 by paying $79.99. For UFC fans, you should really invest in the latter. ESPN+ now hosts a plethora of UFC Fight Nights per year, along with other exclusive content.
UFC 247 cost:
Need more convincing? ESPN+ also hosts Top Rank Boxing cards, daily MLB games, every out-0f-market MLS game, and all kinds of college football and basketball. You'll also be able to stream the complete 30 for 30 catalog on demand.
Jon Jones vs. Dominick Reyes live stream schedule
All times in ET.
Main card | 10pm on ESPN+
Jon Jones vs. Dominick Reyes
Valentina Shevchenko vs. Katlyn Chookagian
Juan Adams vs. Justin Tafa
Mirsad Bektic vs. Dan Ige
Derrick Lewis vs. Ilir Latifi
Prelims | 8pm on ESPN
Trevin Giles vs. Antonio Arroyo
Alex Morono vs. Kalinn Williams
Lauren Murphy vs. Andrea Lee
Early Prelims | 6:15pm on Fight Pass
Miles Johns vs. Mario Bautista
Domingo Pilarte vs. Journey Newson
Andre Ewell vs. Jonathan Martinez

For a year-round sports fix, sign up here and check the "sports" box to receive our weekly boxing newsletter. You'll hear about all the biggest fights and best knockouts from the Daily Dot's streaming sports guru Josh Katzowitz.
The post Jon Jones has more than one opponent at UFC 247: Dominick Reyes and himself appeared first on The Daily Dot.