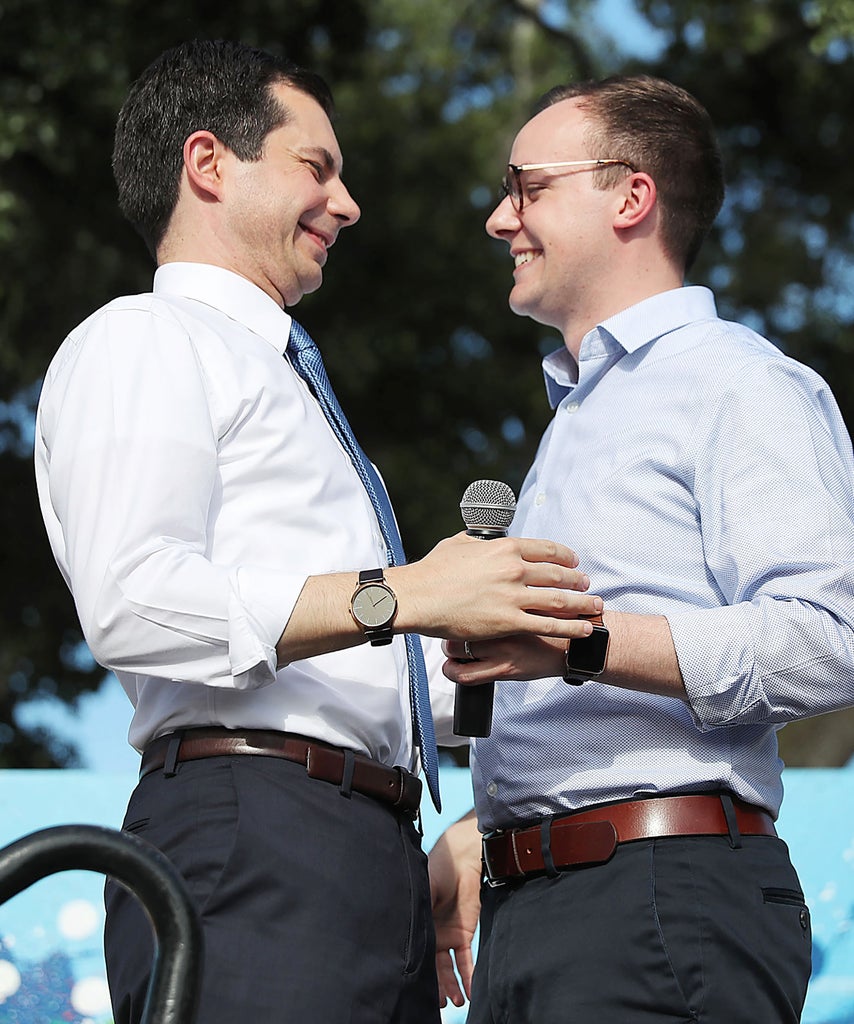 Following the snarled messes that were the Iowa caucuses in 2020 — replete with data reporting errors, a catastrophic app failure and electoral cringe that aired live on CNN — Pete Buttigieg infamously declared himself the winner before even one percent of the vote had been announced.
After a review of 95 percent of precincts, the former mayor of South Bend, Indiana took a gamble that appears to have paid off: the Iowa Democratic Party declared Buttigieg the winner with just a slim 0.1% lead over Vermont Senator Bernie Sanders in the state delegate equivalent count.
While Buttigieg is currently hovering in second place in most major polls ahead of the first-in-the-nation New Hampshire primary, it's clear that he'll always be first in the heart of his number one supporter: his 29-year-old husband, Chasten Glezman. Throughout Buttigieg's campaign, Chasten appears readily by his side, supporting his husband throughout the perils of heated debates, Iowa caucusing, and primary prep. For those wondering how Pete and Chasten's relationship started, we've put together a timeline to answer all your questions about the presidential hopeful and the potential First Gentleman-to-be.
May 2015
Pete Buttigieg came out in the spring of 2015, acknowledging that that he know his sexuality before taking office. He said, specifically, "…well into adulthood before I was prepared to acknowledge the simple fact that I am gay."
August 2015
As a sitting mayor in South Bend, Buttigieg had a hard time knowing where to begin the search for romance, so he started with an app. After settling on Hinge in favor of a platform "…where you're not necessarily inundated with hookup culture and sex," he soon came across Glezman, who was nearly 95 miles away in Chicago. The two would periodically FaceTime each other during the brief time that they were dating long-distance, but they did in fact meet on a dating app — a true millennial romance.
September 2015
According to the New York Times, Buttigieg and Glezman's relationship officially began firmly in the spirit of the midwestern tradition: At a pub, over draft beers and a Scotch egg. "He said, "You've got to try these,'" Glezman told the paper. "It was a kind of magical moment. I mean, sure, it's a fried ball of meat with an egg in the middle, but when it came to the table my little Midwestern heart leapt."
"Literally, there were fireworks on our first date," Glezman told the Times. "It was kind of ridiculous, I know, but I was hooked."
June 2018
Buttigieg and Glezman were married after nearly three years of dating at the Episcopal Cathedral of St. James in South Bend, with nearly 200 guests in attendance. At their wedding, they had two skeeball machines because it's Chasten's favorite game).
2018- today
The couple is still going strong, despite the logistical challenges Buttigieg's presidential campaign has presented for Glezman's schedule as a junior high school teacher."Being Pete's husband has already been the adventure of a lifetime," he told a crowd during a campaign stop in 2019. "I now live in a world where people take photos of me in the deodorant aisle at the grocery store."
Chasten has been at multiple debates to support his husband's campaign, and you can now even buy "First Gentleman" merch with his name on it.
Related Content:
Like what you see? How about some more R29 goodness, right here?
Pete Buttigieg Shares His Coming Out Story
All Eyes Were On Bernie & Buttigieg At The Debate
Let's Talk About Pete Buttigieg's Wine Cave