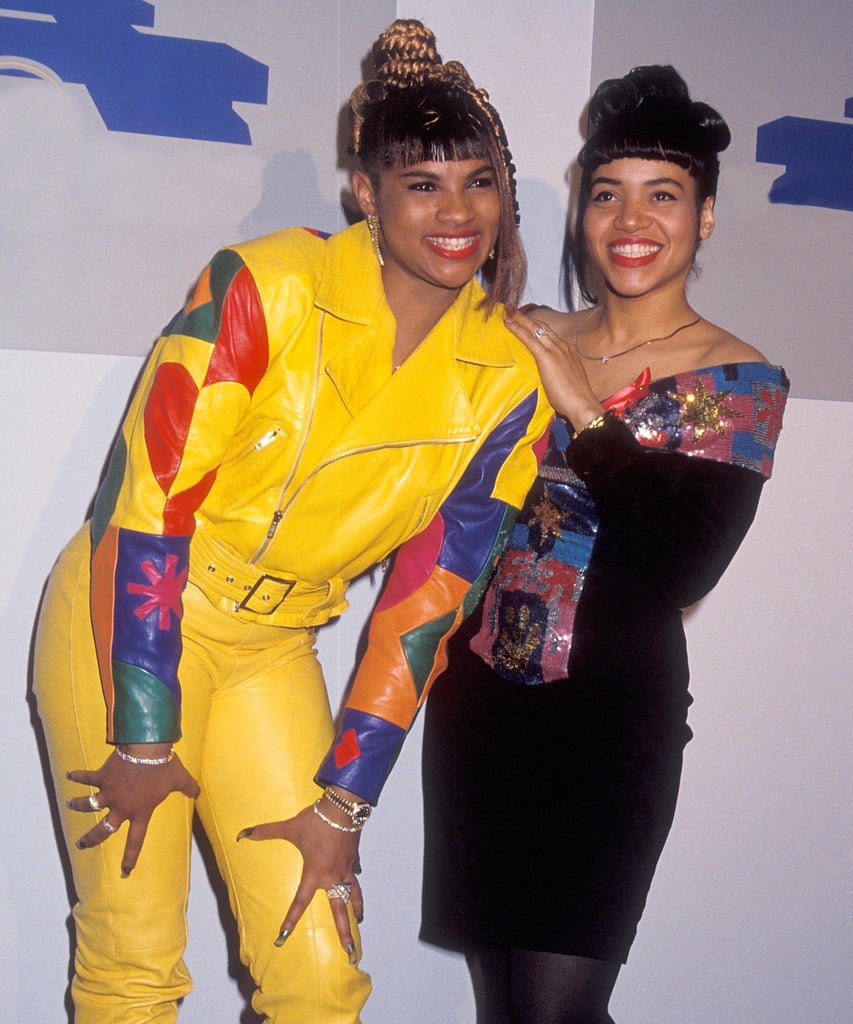 Even before the voices of Cheryl James and Sandra Denton — better known as the Salt and Pepa, respectively, from Salt-N-Pepa — belt out the words "oooh, baby, baby" from their 1987 smash hit "Push It," the song gets us hyped. In fact, the first few seconds is so recognizable, you know a dance party is about to go down — even 33 years later. It's the vibe we get from nearly every hit the iconic hip hop group put out, which is probably why they (along with former member DJ Spinderella) dominated radio waves from the late '80s well past the disbanding of the group in 2002.
Salt-N-Pepa's music was a gift that still slaps when it comes on at the right time, but their style was just as epic. As a unit, they were ahead of the curve when it came to hip hop fashion and beauty. Cropped haircuts, gold door knockers, and red lipstick became the group's DNA, making them beauty icons in their own right. Now, after decades in the industry, Salt-N-Pepa has a makeup collection with Milani to solidify their status as OGs in the beauty game.
The duo teamed up with the drugstore brand to release a limited-edition collection that captures the swag of the '80s and '90s with the quality of modern makeup. "When the opportunity to partner with Milani came about, it was a no-brainer," James says. As a self-proclaimed "makeup person," she was a fan of the brand before the collection came to life, which made the partnership seamless.
Together, Denton and James designed a four-piece collection, which includes two lip kits (fittingly named "Push It" and "Shoop") and face palettes shaped like CDs. Pigment and color payoff is unmatched in these products: The eyeshadow pans deliver vibrant color in one swoop while the lipstick lasts for hours. "Both of us are very infused in all parts of this collection," Denton says, who notes that her beauty look is more reserved compared to James. "I'm a matte lipstick, light makeup type of girl," Denton says. "But there's a Salt and Pepa in every friendship; this is reflective of our individual styles."
Meanwhile, James describes her style as a cross between funky and feminine. "I was not always true to myself in the early stages," she says. "But I was true to my dedication to making this [group] work. So that kept me on my journey of figuring out who I was."
As they've gotten older — both women are 53 — they agree that their confidence has increased. "We spent a lot of our lives apologizing for who we are and what we do," James says. "As a grown-ass woman, I am unapologetic about who I am. That attitude has grown over time, but I am confident this is where we are supposed to be right at this moment." If their epic new makeup collection is proof of anything, it's that James is absolutely right.
At Refinery29, we're here to help you navigate this overwhelming world of stuff. All of our market picks are independently selected and curated by the editorial team. If you buy something we link to on our site, Refinery29 may earn commission.
Like what you see? How about some more R29 goodness, right here?