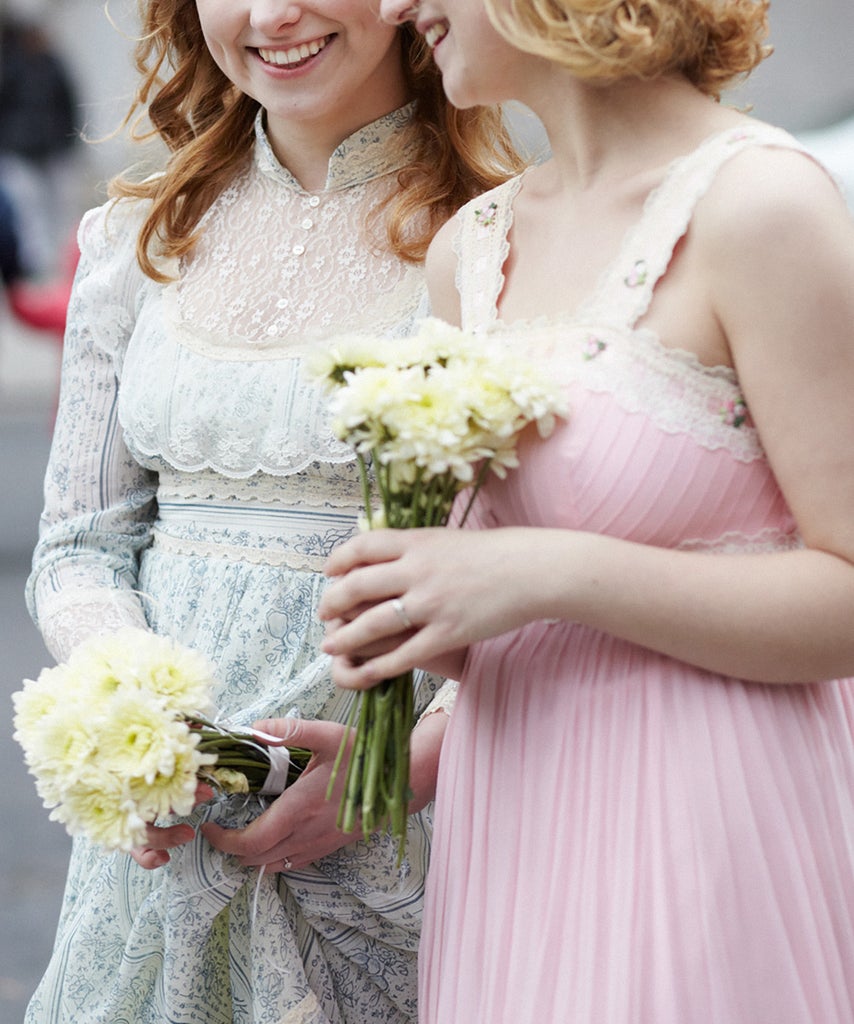 Over the past few months, you might have seen plenty of diamond rings, ear-to-ear smiles, and custom couple hashtags on the 'gram as engagement season did its thing. Love is in the air! But we have some not-so-great news for everyone who's starting their wedding countdown right now.
According to astrologer Susan Miller of Astrology Zone, Venus and Mars will retrograde during peak wedding dates this year — Venus from May 13 to June 25, and Mars from September 9 to November 13— and that spells disaster for a marriage.
Miller shared this info at a recent panel called "2020 & The Stars," moderated by Ophira Edut of the AstroTwins, at the Moxy East Village in New York. Along with fellow astrologers Colin Bedell of Queer Cosmos, Mecca Woods of My Life Created, and Nadiya Shah, Miller discussed what the planets have in store for the year ahead.
Most of the audience seemed unperturbed, but I was so shocked by Miller's wedding season bombshell that I called her up afterwards to get more information.
Venus represents affection, and if the planet of love is moving backwards when you tie the knot, "that's the birth of your marriage," Miller says. "It affects you, it's in the DNA of your marriage. You don't want it to be a low-affection marriage."
On the other hand, Mars rules our sex lives — and marrying while the red planet is in retrograde means your future between the sheets will be pretty lackluster. "It would be bad," Miller says. "It's a marriage where the sex isn't good."
She clarifies that, for both Venus and Mars retrograde, you won't see the effects immediately — you'll probably still have a honeymoon period. But marrying while these two planets are in backwards motion is bad news for your relationship over the long-term.
As if these two planets weren't enough, Miller advises avoiding marrying during Mercury retrograde, too — this year, that's February 16 to March 9, June 17 to July 12, and October 13 to November 3. "Mercury is contracts, and weddings are contracts," she explains.
If you've already planned your dream wedding on one of these unlucky dates, don't cancel it. "What you're going to do is you're going to go to City Hall. You're not going to tell your mother, you're not going to tell your friends, and you're going to celebrate it on the big day, the day you walk down the aisle," Miller advises.
But if you want to circumvent disaster, that trip to City Hall does have to include a legally binding marriage. "A lot of people say, Oh, I'll go get the license. No, you have to actually get married," she says. "And you're getting married earlier, so this could end up being good for tax reasons."
If you haven't chosen your wedding date yet, Miller suggests consulting with a professional astrologer, because there are many factors to keep in mind. Generally, it's considered lucky to get married near one partner's birthday, because the position of the sun will be near where it is in their natal chart. But you also want to keep Mercury, Venus, and Mars in mind, as well as the angles the planets make with each other and what they signify.
"Don't try this at home," Miller says. "This is the kind of year that's a good strong year, but there are billions of potholes."
Like what you see? How about some more R29 goodness, right here?
Wedding Registry Ideas Based On Zodiac Sign
Your Love Of Music Is Written In The Stars
How Each Sign Will Survive This Venus Retrograde