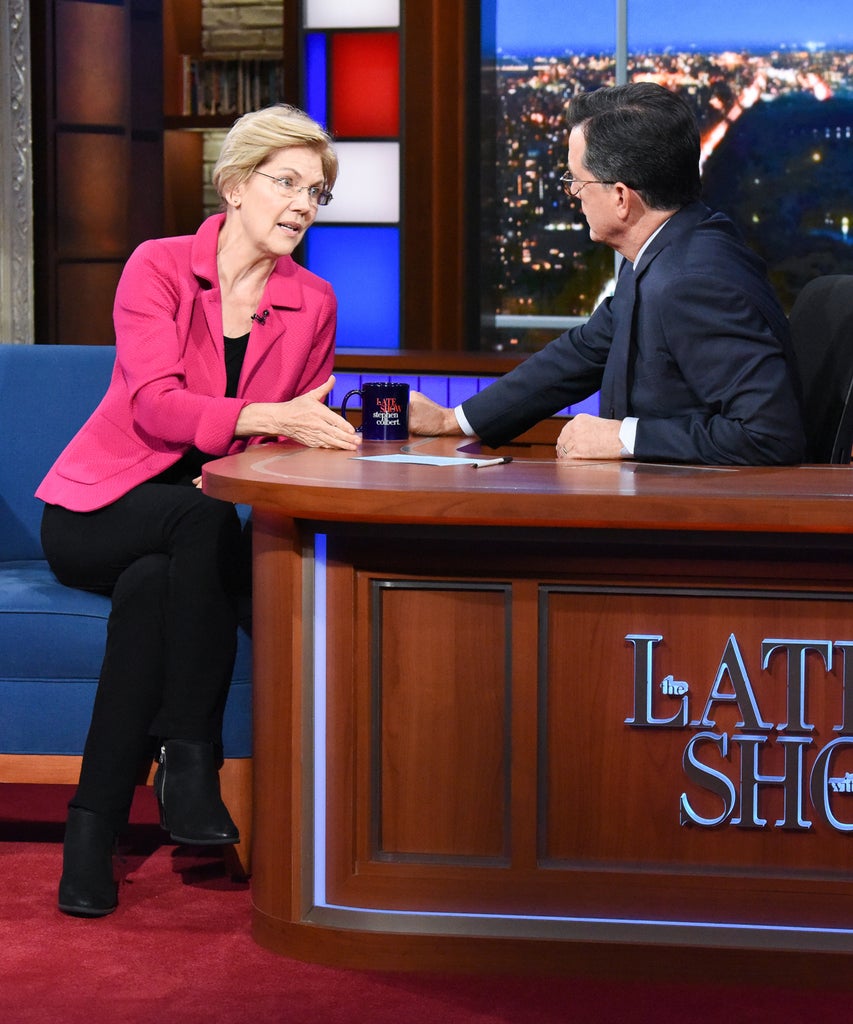 Elizabeth Warren is still collecting the tears of billionaires, perhaps her biggest adversaries in the 2020 presidential race. During the Wednesday night episode of Stephen Colbert's Late Show, the Massachusetts senator made an appearance ahead of the South Carolina primary, during which they enjoyed some of the state's classic, but rich, cuisine — so rich, Warren might want to tax it, Colbert joked.
With wealth taxes and universal healthcare on the table, it wasn't long before the two started a game of "name the billionaire," whose money Warren plans on taking. The game began when Colbert proceeded to describe famous billionaires (much like a political game of Taboo) and Warren had to guess them based on that description.
He first described Facebook founder Mark Zuckerberg, with the following: "He never shows emotion, looks like he cut his own bangs with toenail clippers, he—" "Bill Gates?" Warren replied. Although Warren's first guess was wrong, things soon picked up — and got quite heated. Colbert later moved on to fellow Democratic contenders Mike Bloomberg and Tom Steyer: "He's spending so much money on this election that right now this might be a commercial ad for him and we don't know it." Of course, Warren immediately answered with "Bloomberg!" Essentially, it was the game show created and mastered by the woman who dares to take on every billionaire in the U.S.
Does @ewarren know her billionaires? @StephenAtHome quizzes her at @HuskRestaurant in South Carolina! #LSSC https://t.co/sS6Vfmr2e4 pic.twitter.com/QskKaHW7F3

— The Late Show (@colbertlateshow) February 27, 2020
Warren has taken a hardline stance in support of the working class throughout her candidacy, taking on billionaires from the start of her campaign. Some of her more popular policy platforms include an Ultra-Millionaire Tax that would tax the richest Americans, specifically households with a net worth of $50 million or more; and a Real Corporate Profits Tax to ensure that the biggest and most profitable American corporations are paying their fair share in taxes.
In the last 33 years, the average American family lost 3 percent in wealth, while the richest 0.1 percent saw theirs grow 133 percent, according to the Institute for Policy Studies. And the wealth gap is not only a class issue, but also one of racial justice. As Warren outlines in her Ultra-Millionaire Tax policy, the 400 wealthiest Americans "own more wealth than all Black households plus a quarter of Latino households."
It's no wonder that Warren is coming for billionaires, including the two running against her in the Democratic primary, philanthropist Tom Steyer, and former New York City Mayor Mike Bloomberg, who has paid millions of his own dollars into the race, which even landed him a debate spot.
Warren is now looking ahead to the upcoming primaries, including Super Tuesday where 14 states will hold nominating contests. When asked by Colbert about her favorite state, the senator simply said, "All of them!"
Like what you see? How about some more R29 goodness, right here?
Elizabeth Warren Says She Was Fired While Pregnant
Bloomberg Releases Women From NDAs
Warren Comes Back Swinging — At Bloomberg