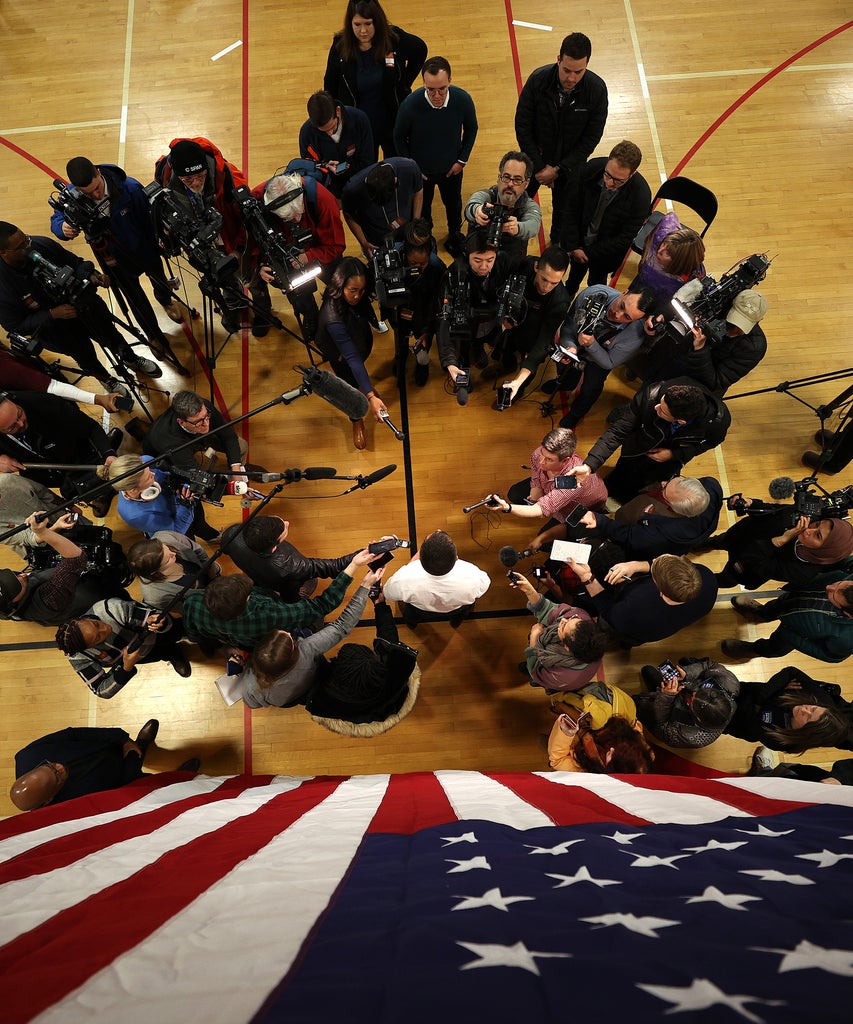 It's now Tuesday and yet the results from the Iowa caucuses on February 3 are still not in. As delays continue, so do widespread questions over the complicated caucus process. More than that, there's chatter and investigation into the app that's responsible for the delay. What's the hold-up?
This year, Iowa introduced new rules and new technology to, ironically, make the voting process go more smoothly. That didn't quite pan out thanks to Shadow Inc. — the Democratic tech firm that created the app used during caucuses to tally votes and deliver quicker results. While the app was supposed to make caucuses easier, technical difficulties with the app became apparent by Tuesday night and by 1 a.m. when results were still nowhere to be found.
During caucuses on Monday, Democrats continuously reported issues trying to download the app as well as issues trying to upload voting results to have them delivered to state party headquarters. Many results had to be called into headquarters in Des Moines. In addition, the Sanders campaign, which was weary of these kinds of issues arising, built its own app to track voting, according to campaigners and Precinct Captains on Twitter. The campaign released their own internal numbers last night, in an attempt to hold the process and the party accountable.
The app was already at the center of controversy heading into Iowa, but now it's becoming even more messy. Shadow, the tech company responsible for the app and now the commotion that's ensued since, was paid more than $60,000 by the Iowa Democratic Party to develop the tool, according to the Huffington Post.
The tech firm is funded by ACRONYM, a non-profit organization, and headed up by Gerard Niemira, who worked on Hillary Clinton's campaign team in the 2016 election. Online, Twitter discourse surrounding ACRONYM's CEO Tara McGowan's support of Pete Buttigieg is rampant, given that Buttigieg claimed victory last night despite total lack of results.
The other candidates, Elizabeth Warren, Bernie Sanders, Joe Biden, and Amy Klobuchar also gave speeches, but none as declarative as Buttigieg. Going further down the rabbit hole, Shadow also seems to have ties to Buttigieg, who donated $42,500 to the company last year according to filings from the Federal Election Commission.
In a statement from Democratic Party Chair Troy Price, he said this has nothing to do with hacking. It's simply faulty technology. "As precinct caucus results started coming in, the IDP ran them through an accuracy and quality check. It became clear that there were inconsistencies with the reports. The underlying cause of these inconsistencies was not immediately clear, and required investigation, which took time," Price said. Apparently, the app was only reporting out some data, but not all of it, because of a coding error.
Price claims the issue has been identified and fixed, and that it hasn't impacted the precinct chairs' ability to report accurate results — which is a good thing, considering this same technology is meant to be used in Nevada come voting day. "While our plan is to release results as soon as possible today, our ultimate goal is to ensure that the integrity and accuracy of the process continues to be upheld," Price said.
While everyone awaits Iowa results with baited breath, it remains to be seen how the controversy surrounding the app will be handled — especially when the same flawed technology is supposed to be used in other primary processes around the corner.
Like what you see? How about some more R29 goodness, right here?
What Is The Iowa Caucus & Why Is It So Important?
Elizabeth Warren Thanks Women Volunteers In Iowa
All Your Caucus Questions, Answered